Chair: Dr Rowena Christiansen, FAsMA
Deputy Chair: Dr Susan Fondy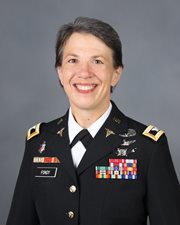 COL Susan Fondy, MC, USA, is president of the newly reorganized Society of U.S. Army Flight Surgeons, which merged with the Army Aviation Medical Association this year and became the U.S. Army's constituent organization in AsMA.
She has just recently been promoted to become the Chief Surgeon of the U.S. Army National Guard, National Guard Bureau, Arlington, VA. She is also a Member-at-Large on the Council of AsMA, the chair of the Education and Training Committee, and a member of several other committees within AsMA.
COL Fondy received her Bachelor of Science in 1989 from the State University of New York, Binghamton. She earned her M.D. from the State University of New York at Stony Brook School of Medicine in 1994. She then did her Pediatric residency in 1997 at the Medical College of Virginia, Richmond. She received her Master of Public Health in 2011 from UTMB, Galveston, TX. She did her Aerospace Medicine Residency at the Naval Aeromedical Institute, Naval Air Station Pensacola, Pensacola, FL.
COL Fondy served three tours in Afghanistan, including Brigade Surgeon, 10th Sustainment BDE, 10th MTN DIV (LI), Fort Drum, NY, and Bagram, Afghanistan, 2004–2007; Battalion Flight Surgeon, 1-101st Combat Aviation Brigade, 101st Airborne Division (AASLT), Fort Campbell, KY, and FOB Salerno Afghanistan, 2007–2009; and Brigade Surgeon, Task Force Observe, Detect, Identify, Neutralize, Bagram, Afghanistan, 2013–2014. She also served one tour in Iraq as Chief of Primary Care, 21st Combat Support Hospital, 1st Medical Brigade, Tikrit, Iraq, 2009–2010. She was Chief, Flight Physical Review and Disposition, U.S. Army Aeromedical Activity, Fort Rucker, AL, 2014–2015, and Command Surgeon, 3rd Expeditionary Sustainment Command, Fort Bragg, NC, 2015–2017.
An Associate Fellow of AsMA, COL Fondy is a member of the Army Aviation Association of America, the Association of Aerospace Medicine Specialists, and the Space Medicine Association. Her honors and awards include the Bronze Star Medal, the Defense Meritorious Service Medal, five Meritorious Service Medals, the Theodore Lyster Flight Surgeon of the Year for 2014 and the Army Aviation Association of America Medicine Award (Flight Surgeon of the Year, 2008), two Air Medals, and the Army Commendation Medal.