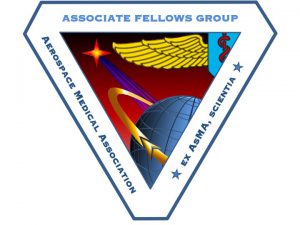 Associate Fellowship honours members of the Aerospace Medical Association (AsMA) who have contributed to the Association in a positive manner. Membership in the Associate Fellows Group (AFG) is a vehicle for AsMA members to broaden their participation and make the greatest contributions to Aerospace Medicine and the Association. Associate Fellows are encouraged to take initiative for their own advancement within AsMA.
Benefits of membership:
Membership in the AFG provides an opportunity to receive guidance on how to sponsor or participate in scientific panels, serve as panel chairs, or present scientific papers at the Annual Meetings;
Committee participation allows AFG members to become familiar with the committee structure and how AsMA conducts its business;
Active involvement in the AFG gives members the opportunity to interact with other AsMA members, AsMA Fellows, and the AsMA leadership, providing unique opportunities for career guidance and mentoring; and
Membership and participation in the AFG may lead to consideration for AsMA Fellow status.
For information on becoming a member of the AFG, please visit our Membership Page.