Deputy Chair: Dr Lisa Snyder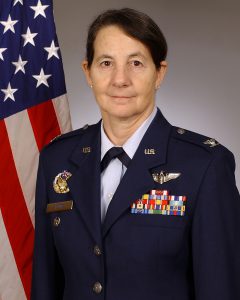 Country of Residence: USA
Professional Qualifications: Board certified Emergency Medicine, Occupational Medicine and Aerospace Medicine physician with a Masters of Public Health as well as Board Eligible in Medical Toxicology. Flight Surgeon in the USAF for 17.5 years and flown in 19 different aircraft.

Other current and past activities/offices held in AsMA or the AFG: Member of AsMA since 2001 and selected as an Associate Fellow in about 2008. She has held the position of Membership Chair for the AFG for two years about 10 years ago and has presented at the AsMA conferences in the past. She has also held the positions of President and Vice President of the Alliance of Air National Guard Flight Surgeons and a member of the nominating committee for the Society of United States Air Force Flight Surgeons.

COLONEL LISA K. SNYDER is the State Air Surgeon for Indiana Air National Guard, where she is a senior advisor to The Adjutant General on matters pertaining to the 2000 Indiana Airmen's fit for duty and readiness status. Colonel Snyder also serves as the Director of the Medical Directorate responsible for the Secretary of the Air Force's Medical Review Board.

On the weekends, she is a staff physician in the Emergency Department of a 134 bed large company owned hospital. Previously she has held the position of associate and assistant clinical staff positions at training programs of an accredited, large university and additionally an accredited private medical school.

When not working, she serves as the Director of a foster based cat/kitten rescue in Pennsylvania which she started with one foster in 2015. Since the creation and execution of all requirements to become a non-profit, 501(c)(3) rescue, over 2050 cats and kittens have been accepted into the rescue, provided health care and adopted out to rigidly screen forever homes due to her efforts and especially the 76 dedicated volunteers and fosters. She has an incredible, supporting husband and they enjoy "quiet time" on the lake together!