2020 Invitation
Dear Associate Fellows,
It is my great pleasure to invite those of you going to the AsMA Annual Scientific Meeting in Atlanta to join us for the Associate Fellows Group (AFG) Breakfast on Tuesday, May 19 (please refer to the poster below for further information). Anyone with an interest in the AFG is welcome to attend, so please feel free to bring family, friends or significant others. In order to secure your place, please book by 12 noon on Sunday, May 17.
As part of conducting the Annual Business Meeting of the AFG, we will be inducting the next cohort of new Associate Fellows, presenting the Ellingson Award and our annual Service Awards, providing information about this year's Call for Nominations and inviting expressions of interest for open vacancies, and conducting a Q&A session for prospective members.
More news will follow about this year's special guest speakers.
Once the March issue of Aerospace Medicine and Human Performance is available, the AFG Scientific Program Committee will prepare a collation of AFG members who are acting as Session Chairs and/or presenting at AsMA (whether that be as part of a workshop or panel, or a slide or poster presentation). We encourage you to scan through the list of sessions and abstract details, and to show your support for your fellow AFG members by attending their sessions or presentations.
See you in Atlanta!
With all good wishes,
Rowena
(Dr Rowena Christiansen, AFG Chair)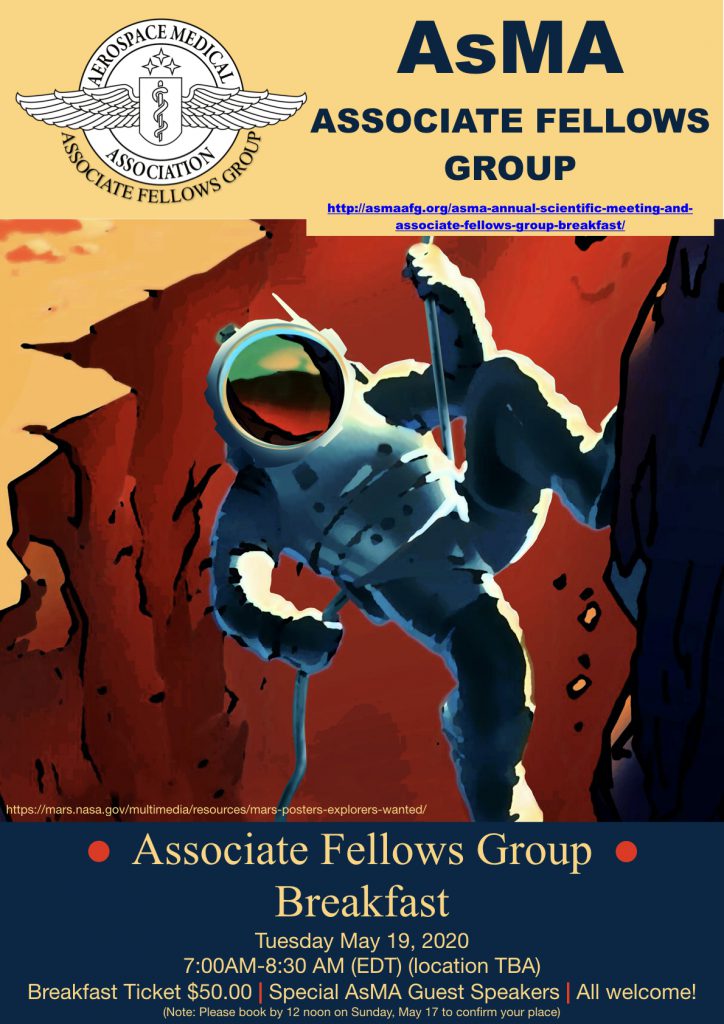 2019 Invitation
Dear Associate Fellows,

It is my great pleasure to invite those of you going to the AsMA Annual Scientific Meeting in Las Vegas to join us for the Associate Fellows Group (AFG) Breakfast on Wednesday, May 8 (please see the attached flier for further details). Anyone with an interest in the AFG is welcome to attend, so please feel free to bring family, friends or significant others. In order to secure your place, please book by 12 noon on Monday, May 6.

As part of conducting the Annual Business Meeting of the AFG, we will be inducting the next cohort of new Associate Fellows, presenting the Ellingson Award and our annual Service Awards, announcing new appointees to AFG Committee positions, inviting expressions of interest for remaining vacancies, and conducting a Q&A session for prospective members.

I am also delighted to advise that we have been able to secure as guest speakers four AsMA luminaries – the current President, Dr Roland Vermeiren, the President-Elect, Dr Hernando "Joe" Ortega, the Chair of the Fellows Group, Dr Warren Silberman, and the AsMA Executive Director, Mr Jeffrey Sventek. This will be a rare opportunity to hear words of wisdom and gain insights from these four AsMA leaders.

As a new initiative this year, the AFG Scientific Program Committee has prepared the attached collation of AFG members who are acting as Session Chairs and/or presenting at AsMA (whether that be as part of a workshop or panel, or a slide or poster presentation). We encourage you to scan through the list of sessions and abstract details, and to show your support for your fellow AFG members by attending their sessions or presentations.
Viva Las Vegas!

Kindest regards,
Rowena
(Dr Rowena Christiansen, AFG Chair)